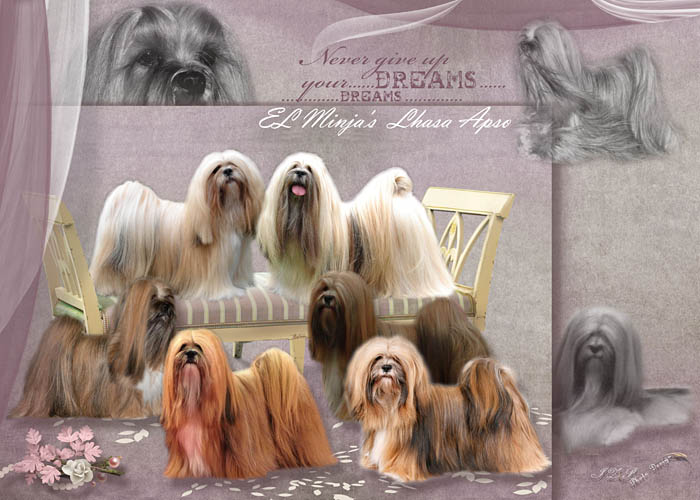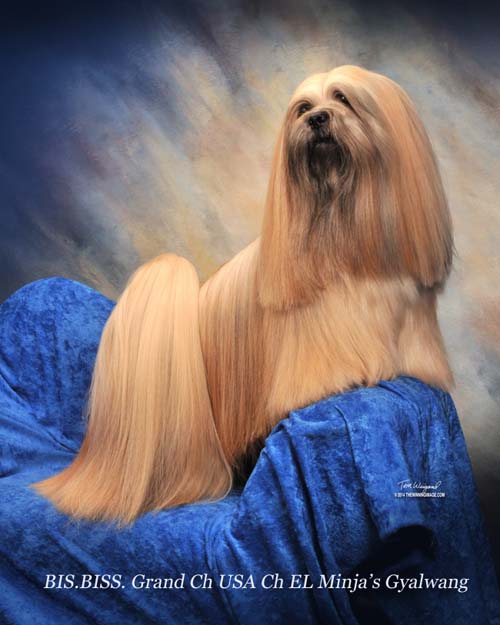 Lhasa Apso Champion EL Minja's Solar Kyi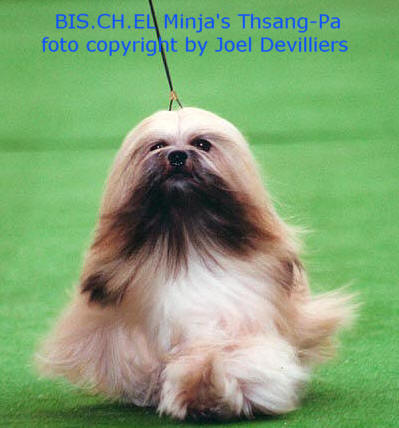 Best in Show Lhasa Apso
Champion EL Minja's Thsang-Pa
My kennel started in 70´s.
My first meeting with the Lhasa Apso breed was on a trip to England, visiting the famous Crufts Dog show at Earls Court. I fell immediately in love and knew I will have this breed in my live.
I have shown at Crufts in 89 Earls Court Hall his name was Lingstoc Bruf my Lingstoc Midas won Best of Breed at Crufts in 1987.
In the country I lived those days, there were just a few Lhasa Apso breeders. I waited till I was in the Netherlands and search for kennels. The attitude and temperament of these dogs is important, the nobility is like the Afghans, and really they are.
The dog shows I like a lot and especially showing my breed. Interesting part for me and my husband Frank is dog breeding for the best quality within the breed standard. Important for me: the type, Oriëntal expression in head, sound movement, soundness in conformation overall and good quality of coat.
My husband likes the puppies very much and they all love him. The puppies play a lot with him and puppies knows him very well. Frank is a big support for me, he is a science animal geneticist and educated in veterinarian medicine, which helps me a great deal.
The differences in my dogs are small because of my consistency breeding. To refresh and keeping the diversity on level, I did used two Lhasa Apso males consisting some inheritance of the former vd Warwinckel bloodlines into my previous EL Minja´s line and submitting some new characteristics. The results are excellent and I'm very pleased with the results.
The last years my focus is on more improving my quality and imported new dogs into my kennel. Very important was my choice to add Kalif this male with wonderful temperament and attitude had a wonderful career and is a tribute to my breeding program, in my kennel.
All about the Lhasa Apso dogs source by EL Minja's kennel, information and pictures about this Tibetan dog breed.
We have sometimes Lhasa Apso puppies for sale, check puppy pictures
all rights reserved and disclaimer