Lhasa Apso Worldchampion
'

s

Worldchampion Worlddogshow Milan 2000
Worldchampion 2000 EL Minja's Thang-Ka
Best of Breed over 74 Lhasa Apso's !!

CH. EL Minja's Thang-Ka
is the son of ;
BIS. Multi Ch.Tn Hi Brick the Big bang X Multi Ch. EL Minja's Dakini
Junior Winner Amsterdam 1995
Bundesjugendsieger 1995
German Junior Champion
International Champion
Belgian Champion
Dutch Champion
German Champion
Luxembourg Champion
Belgian Winner 1998
Bundessieger 2000
World Champion + BOB 2000 Milan (over 74 Lhasa's)
BOB and 2nd BIS at the Dutch specialtyclub 1998
Multi Best In Group and Best In Shows In several countries and special in Holland, Belgium, Germany and France Lhasa Apso breeders have been fortuned to use his EL Minja's qualities and still nowaday many breeders are showing and winning with Lhasas down from EL Minja's, from this dog CH EL Minja's Thang-Ka
quote "The Dutch Breed club "Pekingees en Dwergspanielclub" kept there clubshow mostly in october,
in 2004 a son of CH EL Minja's Thang-Ka won best in show and
in 2005 also a son of CH EL Minja's Thang-Ka won best in show.
bred by EL Minja's kennel and producer of many Champions, from this same litter I kept a female and down from this breeding I still have Lhasas at home and in the showring.

Worldchampion 2003
Multi Champion EL Minja's Mahakala
He is our Producer of many Champions
In our kennel and at other kennels,
EL Minja's Mahakala is the basic foundation male for succesfull breeding,
as well as for kennel "Du pays du Neige" Top kennel in France
His Son;
"COCO"

CH.

La-Dhan-Ko du Pays des Neiges Champion INT - France - Suisse - Best in Show N.E 1998 -

Meilleur chien de l'année 1998 Pédigree Pal

TOP Dog in France

Worldchampion Worlddogshow Amsterdam 2002
We proudly present you, World.J.Champion 2002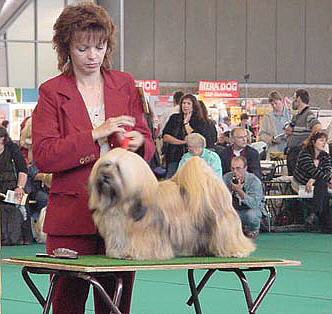 CH. EL Minja's May Boy,

Lhasa Apso, lhasa apsos, Lasha Apso, Laso Apso, dogs, pets, animals, dog breeding, Tibetan dogs, purebred, genetics, health, advice, dog breeders, history, breed standard, puppies, puppy pictures,photo,el-minjas.com, Lhasa Apso information from Topwinning EL Minja's dog kennel we have Lhasa Apso puppies for sale; check out our news and puppy pictures,photos,champions parade!Look for our Genetica"

Lhasa Apso Dogs breeder, EL Minja's kennel