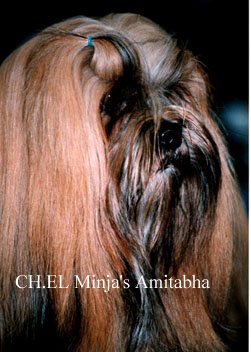 CH. EL Minja's Amithabha
Dutch. International, France, German and Luxemburg Champion
Most of the dogs we have bred are just living at homes as a pet.
They have a great time together with their family. Other dogs are shown or their owner is in love by Lhasa Apso dogshow people. This part of our site is just meant for those Lhasa Apso show dogs who achieved somewhat more: they earned a national title in show. Just keep on working with your dog and we will put also your dog in the spot light!
But before you have a look at these dogs just take a look at our Lhasa Apso's who will be a father of your dog or grandfather or even further away in your dogs pedigree!
To improve certain points, I bought the bitch Mouche Do'r Des Coquins, she was bred to Ramatsche (very old Dutch with excellent quality). Mouche Do'r Des Coquins I bred to my CH. EL Minja's Mahakala and this litter gave me me famous CH EL Minja's Amitabha. She was deep red color with a dreaming head and the hautain Lhasa character. The first time she came to the show in juniorclass she won best bitch, over specials, this was at the Arnhem International championship show 1992.
The list of her wins is very long.
Highlight "Amitabha together with her father Mahakala" won the Paris Longchamp International championship show in 1993 both CAC/CACIB and Mahakala BOB! This show is at the fields of the hippodrome Bois de Boulogne in Paris.
A good year later, I imported the male CH. Tn HI Brick The Big Bang, bred in the USA by Mrs J. Hadden of TnHi kennels and I imported him from Colombia. Brick was a nice male but had a very rough time behind him. After he had six months relaxing and joining our house life I've started him at the show again. This was a different experience for him but he really trusted me. Then I lead him to reserve BIS title at the greatest Dogshow of Europa "Dortmund VDH Hunde ausstellung."
Brick fits perfectly in my Lhasa Apso lines and produced very well with my bitches, he gave me the most beautiful feminine CH EL Minja's Lady-Nada. an experienced judge for more than 40 years in the breed said about her "she is one in a million, the perfection". Thank you! With EL Minja's Chumi, he produced wonderfull males. With other bitches excellent females.